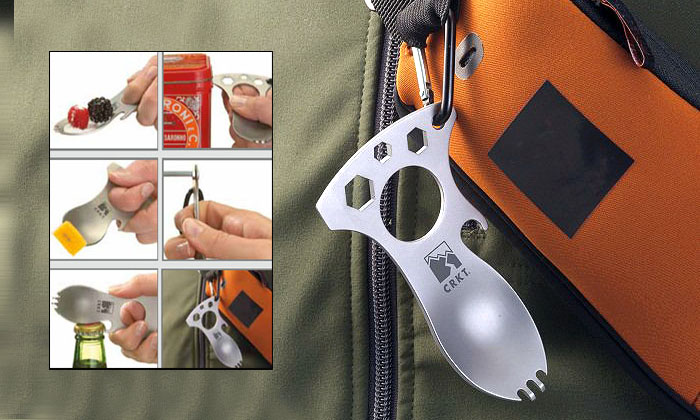 groupon Hot Sales - Travel Essential Eat N Tool - Upto 95% Online Discounts


The merchant is the seller of product(s) under this deal and will be solely responsible for the products soldClick here to read our Returns/Replacement Policy
Product Overview:
Travel Essential Crafted by Hand. So You Don't Have to Eat with Yours. Spoon? Check Bottle Opener? Check
With this unique outdoor multi-tool, you'll be checking off a lot of things without having to dig too far into your pack. Yes, there is an ergonomic spoon, and a short-tuned fork. But in addition, there's a handy bottle opener on one side for your beer that will go with dinner. Then, if you're in a bind, the right side of the handle is ground to provide an emergency screwdriver blade and will also work as a pry for opening canisters. Finally three metric wrench relief's (10 mm, 8 mm, 6 mm) are useful for emergency repairs
A large central hole is not only designed for finger gripping, but it also keeps the Eat'N Tool® weight down. At just 1.5 ounces (43 g) this multi-tool doesn't just look good on paper. In its attractive chrome color it looks good to the eye too.
Features:
Dimensions: Open Overall Length 6.13"
Weight 2.7 ounces
Also has Bottle Cap Opener, Carabiner, Flat Blade Driver
0.028"" & 0.050"" Hex Wrenches
Can Opener
Highlights
Offer is on a Travel Essential Eat N Tool:
Rs.225: Buy 1 – Travel Essential Eat N Tool
Rs.325: Buy 2 – Travel Essential Eat N Tool
Delivery Timeline:
Expect the product to reach you within 10 days of order
See the rules that apply to all deals.
Click
here
to read our Returns/Replacement Policy